My brother and his wife work with a ministry group in the Philippines and have done so for many years.  Matthew has taken each of his children on two separate occasions to help move, build, support, preach, teach, comfort this family.  If you feel so led, please pray for the ministry and if possible make a monetary donation to help them proclaim the message of Hope and Salvation.
Note from Matthew:
The Short Story
Our friends in the Philippines are in need of funds to construct a permanent home for their student ministry and their residence.  We believe $5,000 USD will purchase a lot and get a basic structure in place. Our family will match up to $2,500 of funds raised through this GoFundMe campaign and personal connections.
The Full Story
Hi, we are the Penn Family in Missouri.  My wife, Shawna is an elementary music teacher and I run a web development company, PennDev, and have been in youth ministry for 20+ years.  Through my business, I've developed a small team in the Philippines — one of the guys has been with me for more than 10 years and they really are part of our family.
In 2014, in the aftermath of Typhoon Yolanda, I hopped on a plane and my team traveled with me to Tacloban to be part of a relief mission.  My friend's youth pastor, Orland, accompanied us.  I'll never forget the time we spent serving together!

(Above is the current location of the mission.)
Since then, I have followed Orland's ministry as he was married to his wife Joy, and moved into a new area to be part of a start-up mission in Mahayag.  They are doing tremendous work in the community, as my son and I were able to witness in person this past December 2018.
Orland organizes a youth basketball team. It's more than a team. It's a family. Using basketball as the centerpiece, these young men train, compete, fellowship and worship together.  And Orland is able to speak God's love into their lives day after day.  

The week that I was there, we gathered  a few times at Orland and Joy's home, which is also the base of their ministry.  My son and I got to watch, firsthand, as these students poured in to take part in the 'family' activities. They treated us like family.
Above – Orland and his team ready for a big game!
The basketball mission is just one aspect of their work.  Joy opens their home up for tutoring and ministry specific to young girls. They reach out and support local police officers. And they are in the prisons serving meals and offering encouragement.  Their small, home-based church has tremendous, wide-reaching impact! Currently they are reaching more than 60 young people every day. They are literally bursting out of their home!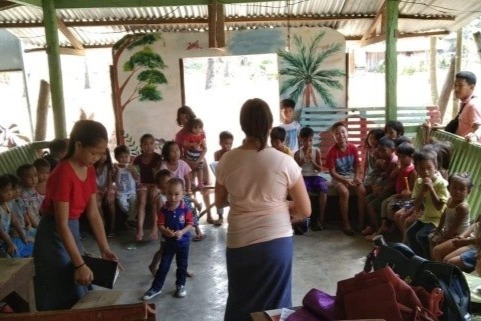 Above – Joy leads a tutoring and children's mission
Recently, they have been given notice by the landowner that their lease will not be renewed and they will need to move out this year.  It is here where I hope my friends and I can step in and assist. Orland was able to raise local funds to purchase one lot in a nearby neighborhood. A $5,000 gift would be enough for them to buy the adjoining lot as well as build a shell of a building for them to start working and living out of.
Our family is going to help. No question! And we would like to invite you to join us. We will match, dollar-for-dollar, up to $2,500 in this effort. If more than that is raised, the funds will go towards finishing the inside of the structure.  I promise that 100% of the funds will go directly into this mission.  In fact, I will personally visit (at my cost) to lend a hand in the building effort!
What will your donation mean?
Bottom line, your small donation will go extremely far!  You will  be helping secure a permanent home base for Orland and Joy's ministry.  Your donation will help them continue to reach young people in the Mahayag community for Christ and breathe hope and encouragement into their lives.
How exactly will the funds be used?
1)  We will purchase the 2nd, adjoining lot. This will allow Joy to offer additional educational space and future growth.
2) Construct the initial structure. Four walls and a roof will give them the framework they need to start their dream, as well as raise further local support.
What if extra funds are donated above the goal amount?
I will work personally with Orland and Joy to identify the greatest need when and if this happens. Most likely, additional funds would be used to help build out the structure and provide furnishings.  But, we certainly don't want to assume anything. Additional funds may be of greater use in another aspect of the ministry.
How soon do we need the funds?
In a matter of months. The landowner is being somewhat flexible, but Orland anticipates that they will be forced to relocate at some point this summer.
Where is this project? Here is an exact location of the lots where we would like to build. Google Map Link . Below is a photo of the empty lots and a parcel map of the neighborhood (it has great access to a major road!).


Why am I passionate about this cause?
As a veteran youth minister and volunteer, I love seeing others who are doing what they can to reach the next generation for Christ. This ministry is authentic.  They are putting skin in the game by opening up their home and lives to the students of their community.  I want to be part of that!
Above – my son and I (white guys in the back row!) with Orland's group.
Above – Joy, Orland, myself and my son Geoffrey at their home in Mahayag.
Thank you so much for reading about our cause. Please don't hesitate to reach out if you have any questions or suggestions.
Matthew & Shawna Penn
Organizer
https://www.gofundme.com/f/philippine-youth-basketball-mission-building-fund?utm_source=customer&utm_medium=copy_link&utm_campaign=m_pd+share-sheet
https://www.facebook.com/donate/1326060327581430/1326068380913958/